New for 2021.
The battery powered EGO CSX3000 Top Handle Chainsaw is designed to tackle the challenges of all-day professional use.  A helpful battery indicator light will alert you when you're running low on power, as will the oil indicator light when the 200ml oil reservoir needs a top up.
With industry-leading Arc-Lithium battery technology at its heart, the EGO CSX3000 Top Handle Chainsaw provides unrivalled power, torque and chain speed, whilst benefitting from long run-times and fast recharge.
A unique Chain-Brake Safety System is a cutting edge combination of mechanical and electronic technology reducing the risk of injury, stopping the tool's motor faster if kickback occurs.
Additional features on the tool make working at height even easier – the Battery-Level Indicator Light alerts you when 10% of battery power is left, while the visible Oil Indicator Light comes on when the tool needs a top up.
Suitable for every tree-top job with a range of chain bars available, from 12"- 16", the EGO CSX3000 Top Handle Chainsaw makes the task in hand, easier, cleaner, quieter and safer.
KEY FEATURES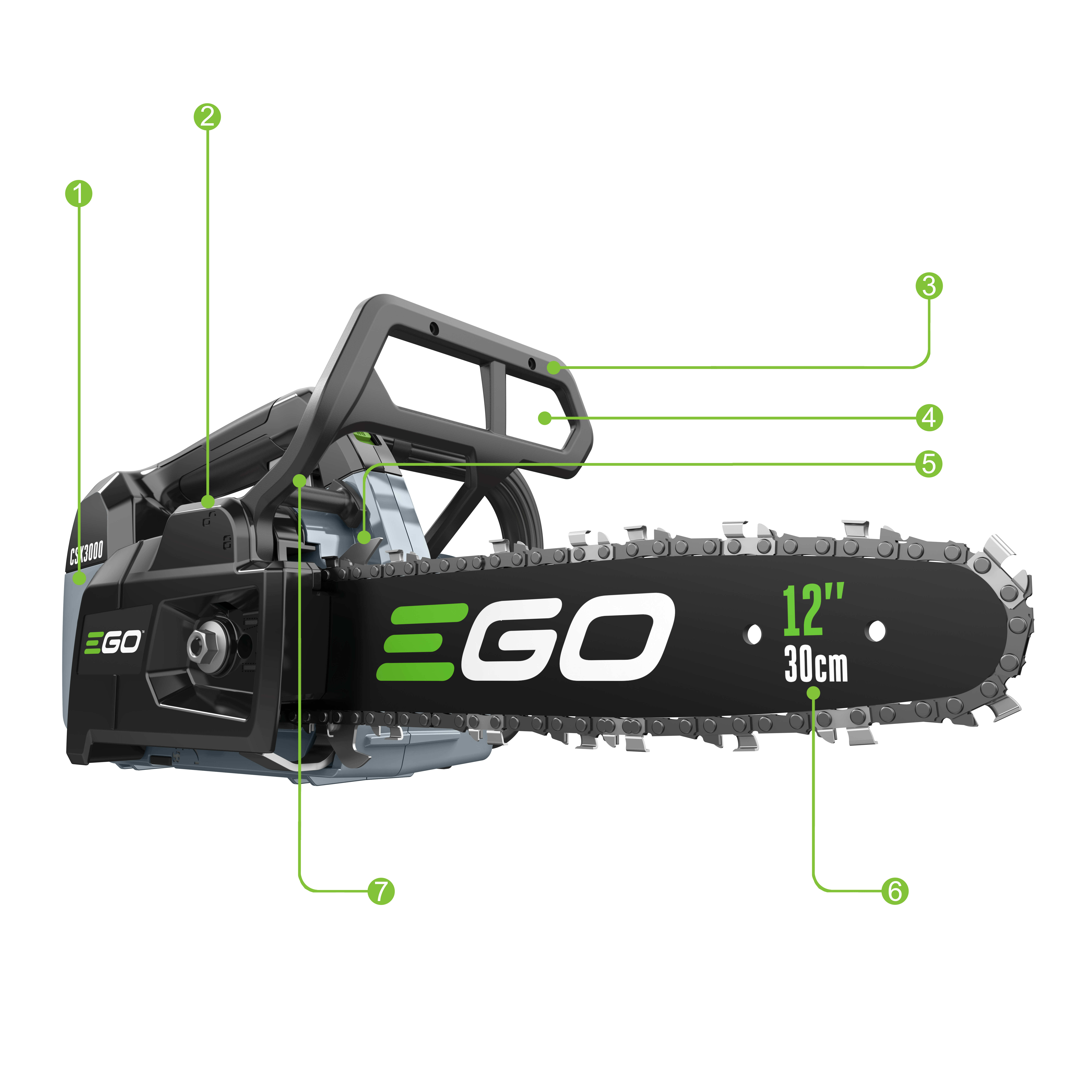 IMPRESSIVE USER COMFORT AND SAFETY

Low vibration and noise levels and zero emissions

BATTERY-LEVEL AND OIL INDICATOR LIGHT ALERTS

Provides warning when power and oil levels are running low

CHAIN-BRAKE SAFETY SYSTEM

stops the motor in its tracks if kickback occurs

SIGHTLINES

helping operators make accurate cuts

METAL BUMPER SPIKES

for better grip during cuts

COMPATIBLE WITH A RANGE OF CHAIN BARS

From 12″ – 16″

TOP HANDLE TRIGGER

Provides power when you need it. No need for a pull cord.
| | |
| --- | --- |
| BLADE LENGTH | 30 cm |
| CHAIN SPEED | 20 m/s |
| RUN TIME 2.5AH | Up to 90 cuts |
| RUN TIME 4.0AH | Up to 186 cuts |
| RUN TIME 5.0AH | Up to 265 cuts |
| RUN TIME 7.5AH | Up to 375 cuts |
| RUN TIME 10.0AH | Up to 530 cuts |
| CHAIN BAR | AG1200 |
| CHAIN TYPE | AC1200 |
| OIL RESERVOIR | 200 ml |
| CHAIN BRAKE | Yes – Mechanical and Electronic |
| NOISE RATING | 88 dB(A) |
| NOISE RATING | 98 dB(A) |
| VIBRATION | 1.7/2.2 M/S |
| CHAIN TENSIONING | Side |
| WEIGHT WITHOUT BATTERY | 3.5 kg |
| MOTOR TYPE | Brushless |
| MANUAL DOWNLOAD |  Download Manual |
| DOWNLOAD SAFETY SHEET |  Download Safety Sheet |